The AlumiTub
Free shipping across Canada & the USA
Lightweight & pre-assembled for remote access
Prices in Canadian Dollars | Orders to the US are tax & duty free
Tough and timeless, the AlumiTub is built to outperform traditional cedar hot tubs. Bringing its form in harmony with the functions off-grid cabin owners need, it stands in a class of its own. A 100% Canadian made wood fired hot tub, precision-built and expertly crafted to stand the test of time, it offers a chance to immerse ourselves in the good company of the great outdoors. A place to gather with loved ones, siblings, cousins, friends, neighbors and all. A time to do nothing other than find contentment as we log off for the weekend and put another one on the fire.
---
For gathering with good company. Whether it be your own or with the whole family, AlumiTubs come in 3 sizes. A solo retreat, a time to connect with a significant other, or a place to gather any and all.
Deep enough to keep even the tallest member of your party plenty warm (no cold shoulders here), not so deep that your smaller ones can't enjoy a seat at the table.
Small AlumiTub - $7495 CAD
2 person wood fired hot tub
Initial heat time: 1.5-2 hours, maintain temp with an armful of wood daily
Water volume: 315 gallons / 1200 litres
Dimensions: 60 inches in diameter, 38 inches deep
Weight: 200 lbs empty / 3200 lbs filled
Standard AlumiTub - $7995 CAD
5 person wood fired hot tub
Initial heat time: 2-3 hours, maintain temp with an armful of wood daily
Water volume: 420 gallons / 1600 litres
Dimensions: 71 inches in diameter, 38 inches deep
Weight: 220 lbs empty / 5000 lbs filled
Large AlumiTub - $8995 CAD
8 person wood fired hot tub
Initial heat time: 4-5 hours, maintain temp with an armful of wood daily
Water volume: 650 gallons / 2450 litres
Dimensions: 84 inches in diameter, 38 inches deep
Weight: 300 lbs empty / 7000 lbs filled
AlumiTubs are a complete wood fired hot tub kit with everything needed to add function and performance -  including free shipping to locations across Canada and the USA at no additional cost.
Wood burning hot tub
The AlumiTub is formed by a marine grade aluminum foundation as a pre-assembled, lightweight unit that can be rolled off a truck, into a boat, along a dock and into place on any flat surface.
Its pre-installed marine grade aluminum firebox is submerged in water for unparalleled heating performance, and is safe to touch under water with protective fencing that keeps bodies from coming into contact with its stainless steel chimney and cap.
Canadian Western Red cedar seating is planed and pre-installed to perfectly accommodate a solo soaker or the whole family, and rough cut cedar cladding surrounds the exterior of the tub with three stainless steel bands, nuts and bolts securing them in place.
A drain sits on the wall or base of the tub to accommodate different drainage needs, and flanges allow for external heating system compatibility.
Waterproof batt insulation provides a third layer of thermal protection for all season use, even in the most extreme winter conditions, along with rigid insulation to place beneath the cedar lid and the base of the hot tub for additional heat performance in very cold weather. 
Multi fuel compatibility for wood fire, propane, gas or electric heating flexibility.
Tools of the trade. Elevate the outdoor experience with everything you need for a simpler way to soak. After placing your deposit, we'll be in touch with shipping details and the option to add these items to your wood burning hot tub toolbox for $1395.
A handmade tongue and groove Canadian Western Red cedar cover retains heat when not in use, keeps debris out, and ensures the safe use of your hot tub to keep kids and pets out.
An aluminum firebox plate helps retain heat and offer full coverage from debris.
An aluminum bottom band wraps around the base of the wood fired hot tub, allowing an additional layer of insulation underneath the tub while keeping it concealed beneath the band. 
The aluminum drink tray sits on the firebox fence to keep refreshments within arms reach.
The thermometer comes in handy allowing you to check the temperature of the water so you know when it's time to hop in, or throw another log on the fire
A scoop allows for easy removal of ashes from the wood stove
A drain kit creates a flexible drainage solution with the use of a valve connecting to the base of the tub for drainage to a convenient location.
Built to perform
AlumiTubs stand in a class of its own. Uniquely designed and meticulously crafted, its not your average wood fired hot tub.
Its self drafting internally submerged firebox is cut and welded to perfection for more efficient and powerful heating than any other wood fired hot tub on the market
With three layers of insulation, the AlumiTub is hot, no matter how cold outside
With minimal overnight temperature loss (3C from 40C), it's ready for hot tubbing with just an armful of wood a day
When adventure calls, the tub can be set on cruise control with the optional Flexible Heating Kit
Proven to perform in extreme winter temperatures (up to -30C)
Dual fuel compatibility for residential or off-grid applications
Filtration flexibility for on-grid environments
Custom drainage to an ideal location on your property
Safety features include an internally submerged firebox that's not hot to touch under water, and a protective fence to avoid contact with the chimney
Made for forever
AlumiTubs are built with precision, pressure tested for quality before leaving our shop. Each of our wood fired hot tubs are custom handbuilt in Canada with enduring 100% recylable materials sourced within our community. Expertly crafted to stand the test of time, each one is made to be a place of gathering for decades to come.
True to our word and here when you call, we're a family run independently owned business with over 20 years of service. With 1000's of tubs built, we have verifiable testimonials and photos to show for it, you can count on us to be here over the years. 
Near or far, on or off the map. AlumiTubs were designed for off-grid living. Refined for residential use, our wood fired hot tub is compatible with filtration and external heating systems like propane, natural gas, electricity or solar, so you can find the same form of escape in your own backyard. A wood fired hot tub made for life at the cabin, whether you have one or not. When the anticipation of the soak is pulling you in, you can accelerate the heat time by using both simultaneously, or set it on cruise control when adventure leads you away from the firebox. And where water is scarce, or where it can't be renewably sourced from the natural environment, filtration reduces wasted resources by maintaining clean soaking water for months at a time, just as an electric hot tub would.
Rustic in nature with timeless appeal, the AlumiTub has a natural aesthetic that entwines with nature. The enduring materials connect with its surrounding landscape. Holding the classic beauty of a traditional cedar hot tub, made only more enduring thanks to its marine grade foundation. The sustainably sourced Canadian Western Red cedar silvers and grays like the best of us as time marches on, and infinitely recyclable marine grade aluminum develops a patina from the years of water that filled it. With the great passage of time and collected memory, its age only adds more dimension.
Built to perform, we took every opportunity to add unexpected function, rigor and grit. Canadians know winter, and one thing we know for sure is that you'll never worry about being cold in an AlumiTub. Our triple insulated wood burning hot tub uses an internally submerged firebox, holding its heat with just an armful of wood a day. With unparalleled heat performance, we guarantee your AlumiTub will get hot and stay hot, even in sub zero temperatures. 
Have your cake and eat it too. Off-grid or on, the tub's hot. Wood fired at its core with alternatives to heat it your way, dual-fuel compatibility provides the same convenience of an electric hot tub in a more sustainable, economical, and aesthetically appealing way.
Accelerate the initial heat time. When time is of the essence, dual heating allows you to heat the water in half the time.
With the added bonus of filtration, you'll only need to change the water every few months.
With natural gas, propane, solar or electric heat, your wood fired hot tub can be safely used during the dry season when fire regulations are in effect.
Keep your wood fired hot tub from freezing year round without emptying the water.
The World's Highest Performing Wood Fired Hot Tub
Sure to never leak, AlumiTubs are enduring as the memories you'll make using it.
For more of the good stuff
See how it works
Slowing down the moments you don't want to miss
A wood fired hot tub is the near definition of warm comforts - a place for simple pleasures and for sharing the finer moments together, in the great outdoors. Like a drive through the countryside, we lend ourselves a little more fully to the moment. To those we share it with, and to the beauty that surrounds us as we follow nature's lead. 

Built better
From our shop where we shake the hands that make it, each one is precision built and pressure tested for quality with premium, locally sourced materials. We cheers with friends at our local mill, support our community, and employ real people rather than machinery.

Designed different
AlumiTubs pioneered the original aluminum hot tub in 2001 to outperform traditional cedar hot tubs. Designed for life at the cabin and customizable for residential use, our wood fired hot tub was the first of its kind. Handbuilt with a marine grade aluminum foundation for unparalleled performance, we're often imitated, never duplicated.

Sustainably made
AlumiTubs are made with FSC certified Canadian Western Red Cedar from responsibly managed forests on the west coast of British Columbia. Durable, long lasting, and renewable, our wood is harvested using sustainable forestry practices, grown and milled right here in our backyard.
Made to become a family heirloom
Sustainably crafted small batch wood fired hot tubs made to last. Because if there's a job worth doing, it's worth doing well.
Canada's Wood Burning Hot Tub Company Since 2001
We have happily been using our AlumiTub for nearly 20 years. Thank you for building such a remarkable product. I can't tell you about the countless happy hours we have spent in its warm confines.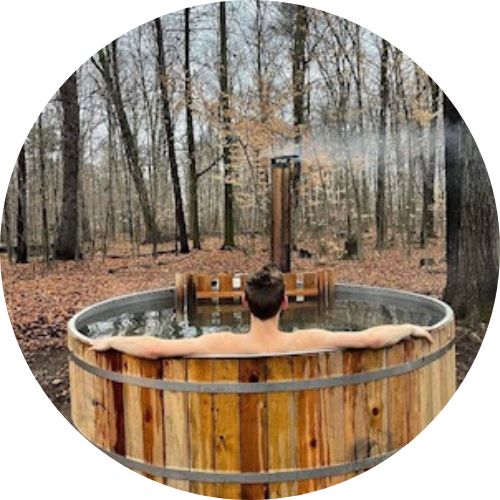 One of our best investments we've ever made! Perfecting the art & science of building the optimal fire and temp of our tub has been a fun & enriching experience. It's given us a greater appreciation for the natural beauty of our property and for hot & cold therapy. We experienced a significant uptick in off-season rentals at our vacation property. All to say, our AlumiTub investment has paid back in spades both personally and financially.
Ryan Fowler & Taylor McIndless
The Brook PEC, Prince Edward County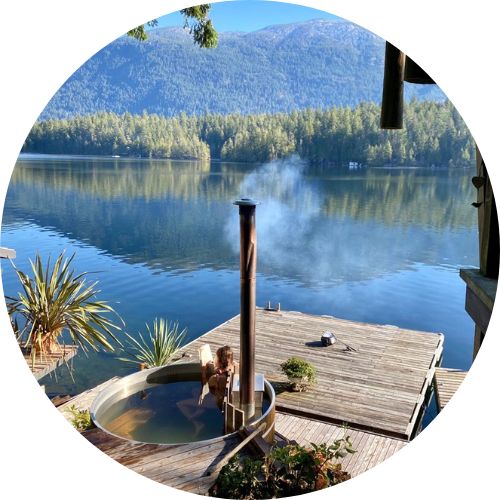 Much better than our old wooden hot tub. Really good people and product. Easier and cleaner than the wooden one. We get to -30F around here. I put extra insulation on the top. Water will hold its heat for a long time. We bought the hot spring to us and it's been worth every penny. Great way to start your Sunday in Interior Alaska. Get yourself one. Good people and great product.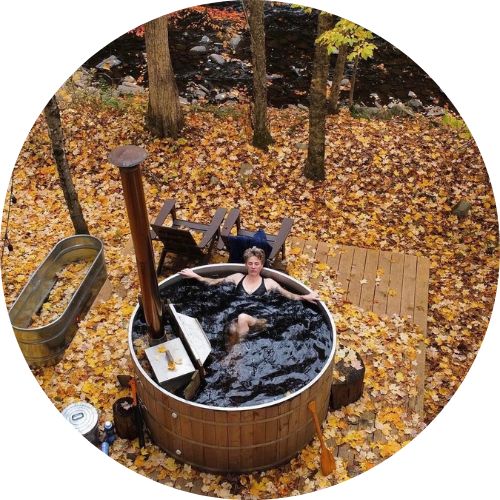 WE LOVE OUR HOT TUB! It has increased airbnb bookings 10 fold! It's a huge hit. This beautiful aluminum tub is located at our Airbnb property @cabin_on_the_river in Narrowsburg, NY in the western Catskills/ upper Delaware valley. The hut tub is just steps to the ten mile river. We fill the hot tub thru a sub pump right from the river.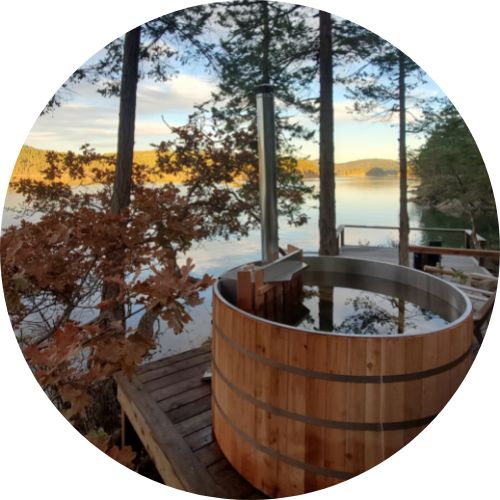 It's currently overlooking the Northumberland Strait. It's very close to being filled with water from the Strait. We are very excited! Thank you for going the extra mile for us. You were calm, courteous and comforting. It's great knowing that there are still great people/companies who genuinely care about their customers!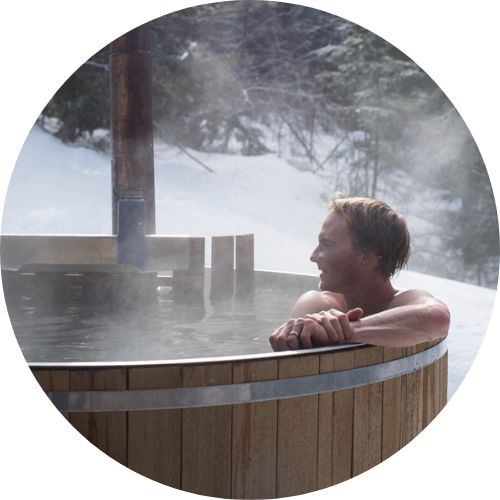 We finally got snow on the east coast and couldn't have been more excited to finally get in and enjoy this in the winter. So happy with your product!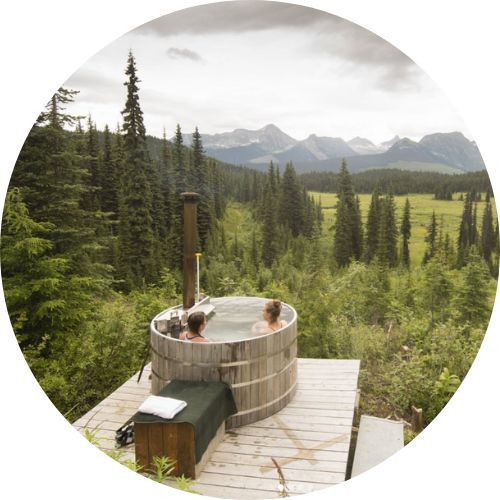 No words. Best hot tub of our lives! Easy to set up and enjoy the same night! The hubs made some quick stairs from all the packaging, down to the last screw. Thanks again to you and the team!! Go Canada made. Thanks for making an amazing product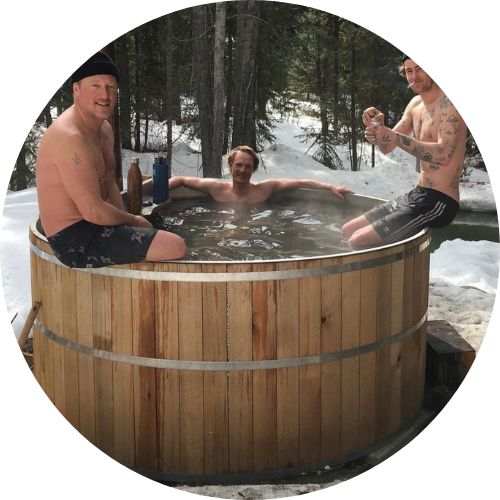 A wood-fired hot tub, a cold beverage (I prefer champagne to keep it classy lololol), surrounded by trees encrusted in front and snow...this is winter. Just add friends and laughter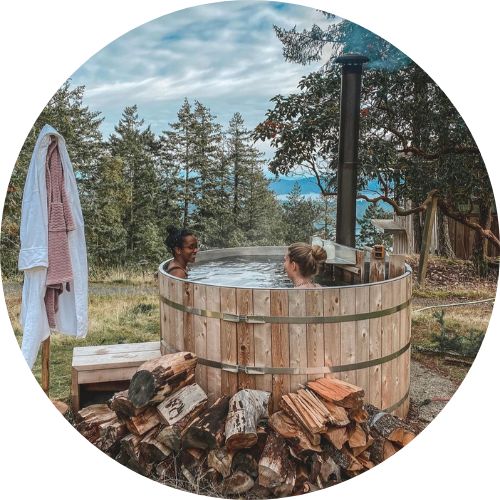 It's super relaxing! So peaceful sitting in it. It's the best in the morning when you hear the birds chirping.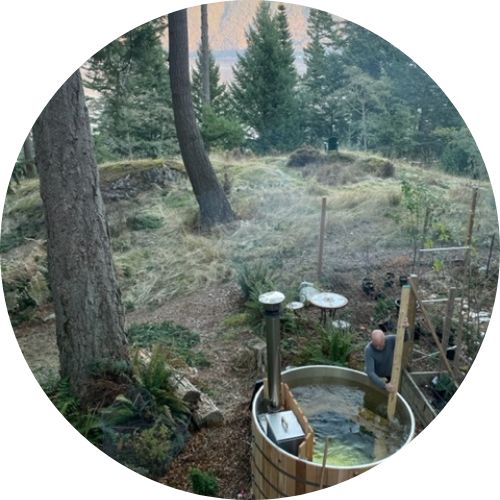 Tonight was our first of many family soaks...and wow! I'll find the words tomorrow. Kudos to my guys for all their efforts.
Made to go places
Lightweight & portable for whatever you call a road. From the back of a pick up truck, or island bound by boat, our wood fired hot tubs have made their way to thousands of properties off the beaten path.
Time well spent
In a world that's fast, it's rare to find a place where speed isn't glorified. Like the warm comforts of a campfire, heating it is half the fun. With a dose of grit and a deep seated certainty that it's time well spent, your wood burning hot tub will become your favourite passage of time.
Prebuilt and unplugged
Arrives as an assembled unit for easy, quick set up. Roll it on its side off the boat, up the dock, through the trail and by the waters edge. Any flat surface will do.
Explore Commonly Asked Questions
Log off for the weekend and throw another one on the fire
A retreat from screens, honking horns, and to-do lists. Starry nights and space in every direction. Where highways become backroads, escaping to a place with more trees than people. Fully focused on the task at hand, where it smells like wood and feels like home - we find rural life at its best. The sound of silence broken by crackles coming from the fire, it offers an appeal that is truly universal. As we soak in the goodness of a wood fired hot tub, there's a deep seated certainty that it's time well spent.