Not your average wood fired hot tub

Made for forever
Built to stand the test of time, our wood fired hot tubs are as enduring as the memories you'll make using it. Sure to never leak, AlumiTubs are equipped to perform throughout the decades.

Hot, no matter how cold outside
Heats in 3 hours, stays hot with just an armful of wood a day. Made with three layers of insulation to get hot and stay hot, even in sub zero conditions. Après ski never felt better.

Flexible heating
Designed for the functions off-grid properties need, customizable for residential use. With multi fuel for whatever adventure you choose, AlumiTubs are for weekends at the cabin or year round domestic use.
As seen in




















Made for more of the good stuff
For misty mornings, action packed afternoons, and cozy evenings under the stars. With room for the quiet ones, the rowdy ones, the tall ones and the small ones, AlumiTubs were made for more of the good stuff.

For remote access
Lightweight & portable for whatever you call a road. Made to fit in the back of a pick up truck or boat, our wood fired hot tubs have made their way to thousands of properties off the beaten path.

Pre-assembled
Quick and easy set up, no electricity or professional installation required. Roll it into place on a flat surface, fill with water, light the fire, and let nature take it from there.

Free shipping
Across Canada and the USA on time, every time. You'll know exactly when it's going to arrive when you reserve your tub for our next available production date, free of charge.
The gathering place
For life at the cabin, whether you have one or not. No buttons, bells or whistles. Staying hot with just an armful of wood a day, or set on autopilot with flexible heating, it'll be there when you need it - ready for gathering with loved ones on the days you won't want to forget.
From handshakes to handcrafting your tub, we're with you every step of the way. With sleeves rolled up, we build your tub and take your calls. No middlemen, no cutting corners.
We've made 1000's of wood fired hot tubs. You've made countless memories using them
Wildcoast's Oceanside wood-fired hot tub at Orca Camp base camp has been the perfect way to relax after a days paddle and still watch for orcas!
Valerie, Wildcoast Adventures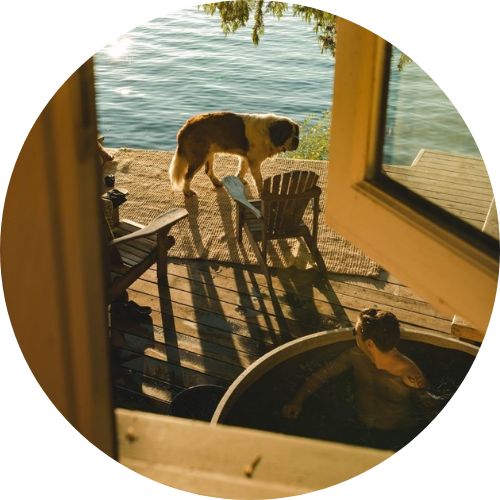 Our wood fired hot tub is going all year - filled with a Spring a little up the mountain.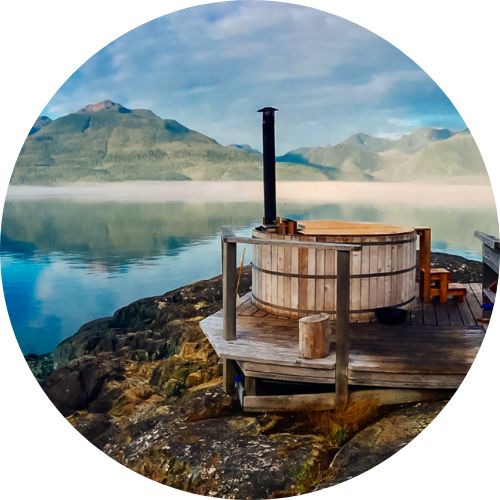 Rebecca, Spirit of the West Adventures
Quathiaski Cove, British Columbia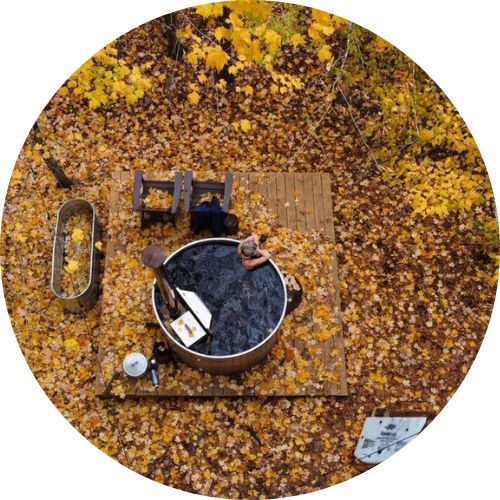 I am a mega mega mega fan of yours! This is actually my second hot tub so I can genuinely attest to how incredible your product is.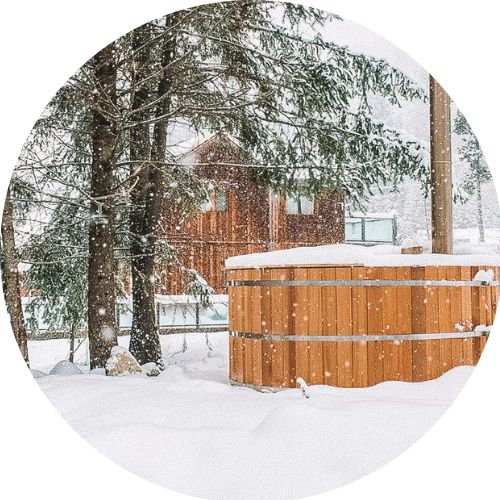 We have been enjoying your tub for years now - thank you!
Chris Winter, Bralorne Adventure Lodge
I just want to say the hot tub is Awesome! in every way. Everything about your service and product could not be better. The wood stove is so efficient and works so well. That is a huge help for me. It makes it all so much easier for me to make it work for guests...We'll order more in the future for more cabins. Aloha
Leo Downey, Buffalo Ranch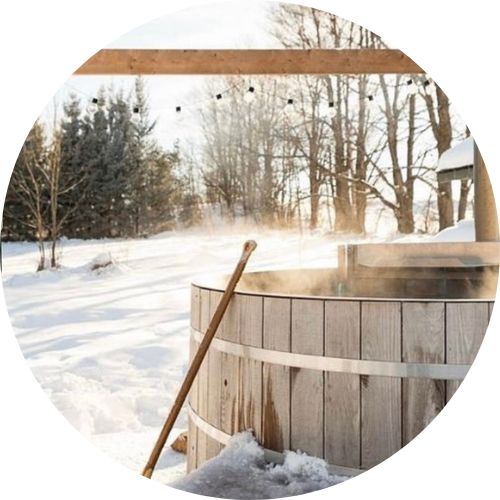 I've had your tub for five years. Wanted to use it year round and do! Even works at -40° 😀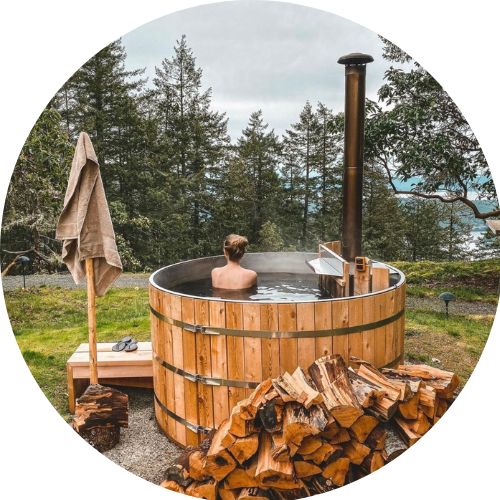 It's AMAZING and I find myself looking forward to crisp fall and chilly winter nights. Thank you for our amazing new tub! We are sure to make a million memories with it! If you have a cabin...you are gonna want one of these!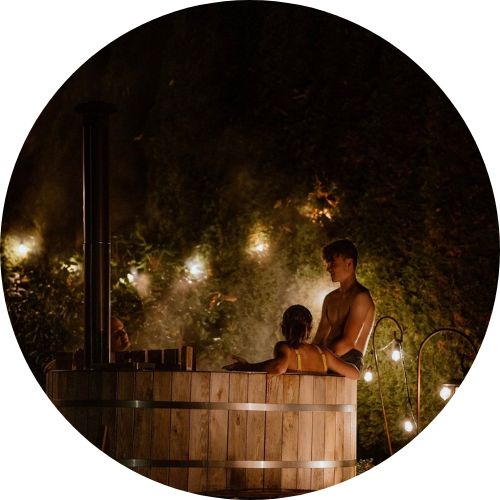 We spend more time in our backyard in the fall and winter than we do in the summer, all because of the AlumiTub. It revolutionized our feelings on dark west coast winters! Today we went for a fall hike and now my son is out chopping firewood to get the fire going. There is so much hygge going on!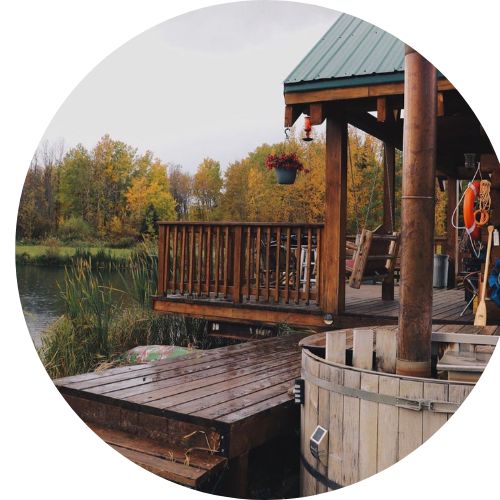 Winter wonderland! When the place isn't booked solid we get to enjoy it. Which means afternoon warm ups after hunting and moonlight wood fired hot-tubbing with my little besties!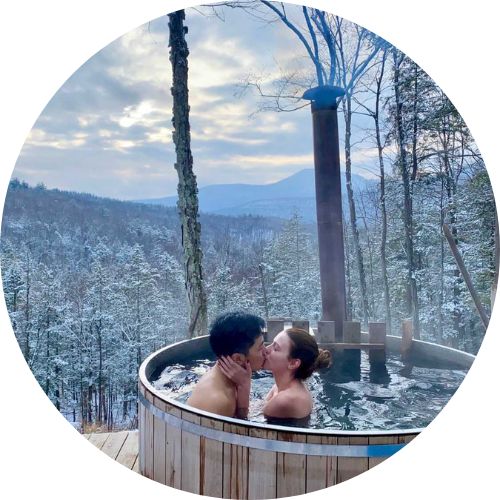 I love the tub! The water comes from our stretch of an underground river. With good hygiene a single fill, chemical free it lasts up to a week. We drain, clean, and refill between guests. We reuse the water in our garden and wetlands, depending on season. In the winter we light the fire immediately upon filling. When guests arrive, it's usually already hot or near ready.
Theo Murphy, The Mountain Wonder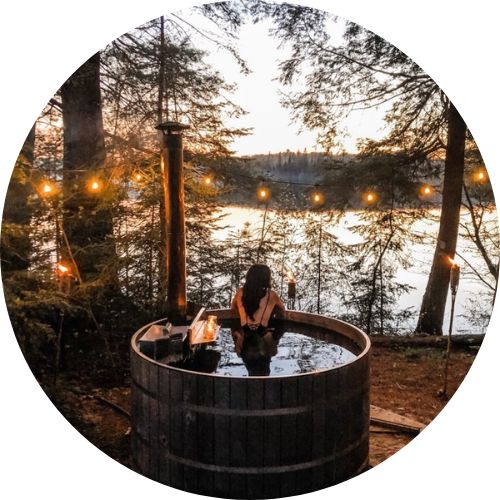 The Lofty Pines
Deer Lake, Sundridge Ontario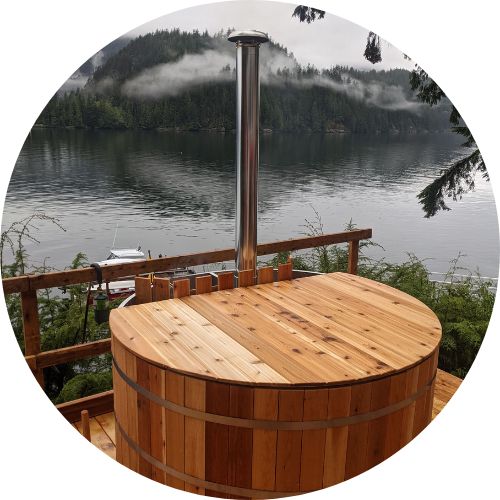 No better place to sit and appreciate the winter wonderland than our AlumiTub hot tub...this one addition has totally changed our appreciation of winter cottage garden. We don't have running water in the winter so we will it from the lake with a gas powered pump and best of all when we're done for the weekend all that's required is to drain the water and cover. No chemicals & no plumbing to pump antifreeze into etc. so simple and easy.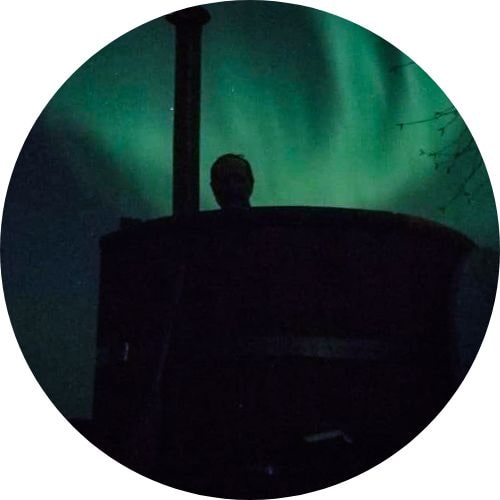 This is my favourite perch. Overlooking the lovely remote River Lake, Northwest Territories. No road access...off the grid and ever so peaceful.
See AlumiTubs in the wild
Canada's Wood Fired Hot Tub Company
From off-grid cabins to cottages in lake country, ocean dwellings, mountain retreats, homesteads, BnBs and wilderness resorts across the continent, there's a whole community of AlumiTub owners finding joy in the connected experience our wood fired hot tub offers.
Wood fire heats the tub in as little as 90 minutes, staying hot with just an armful of wood a day. Use alternative fuel during fire season, or set it on autopilot when adventure comes calling.
With thousands of tubs in the wild, AlumiTubs are proven to perform in extreme winter temperatures up to -30 celsius / -22 farenheit.
For life at the cabin, whether you have one or not. Our Flexible Heating & Filtration kit powers the wood burning hot tub by electricity, either in full or part. Ready for any adventure, wherever it may lead you.
Designed for the functions cabin owners need. Our wood fired hot tubs can be filled with any clean water source - salt or fresh. Pumped from the natural environment and safely recycled again, chemical free.
FOR LIFE IN THE GREAT OUTDOORS
With no humming jets, the only sound you'll hear is the fire crackling. Deep in the backwoods and way off map. Find your escape where the stars shine the brightest.
MADE TO STAND THE TEST OF TIME
Sure to never leak, our wood burning hot tub is built with precision from materials as enduring as the memories you'll make using it. Never needing replacement, it's our goal to make the AlumiTub your family heirloom.
Rustic in nature with timeless appeal, its enduring materials connect with the surrounding landscape. Holding the classic beauty of a traditional cedar hot tub, made only more enduring thanks to its marine grade foundation.